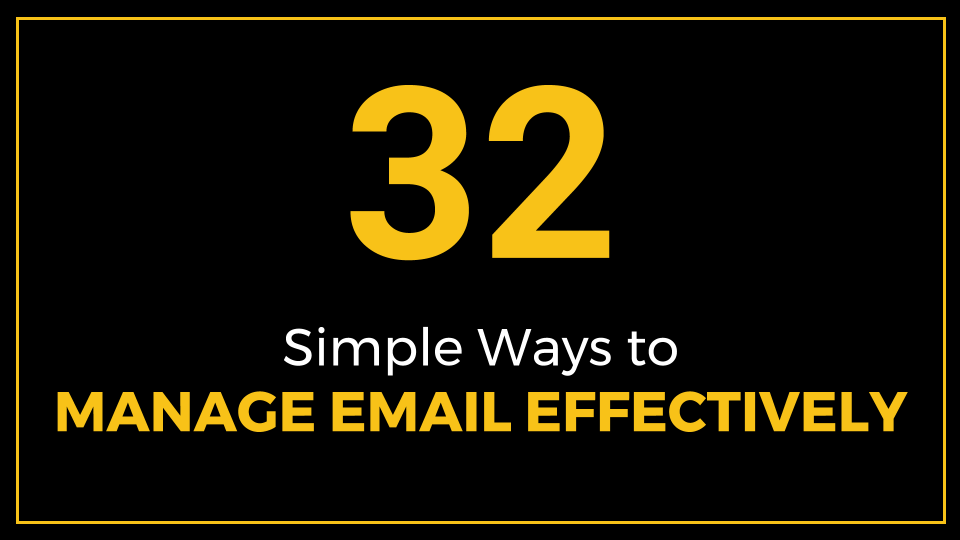 32 Simple Ways to Manage Email Effectively
This article discusses 32 simple ways to manage email effectively and help you deal with email overload.
At one point or another you have struggled with an inbox that is running out of control. This article will give you tips to tame your inbox and also control and manage your email well.
You can quickly skim all the 32 ways on the table of contents below and then click on any tip to read further details. Please enjoy reading. Thank you.
TABLE OF CONTENTS
1. Is action needed immediately or later?
When you receive an email, quickly read it and determine if any action is needed immediately or if you can respond later.
Also determine if the email is just for your attention and no action is needed.
If the email is a simple request or a request that you can quickly respond to, then go ahead, craft your response and send it immediately.
If the email will require some bit of head scratching or research to prepare a response, then send a brief email confirming receipt and stating when you expect to send your response.
2. Acknowledge receipt
Email senders do not like to be in email in 'email limbo' – that state where you have sent an email and have not received any form of response. You do not know if the recipient saw your email or whether your email was delivered at all.
When you put yourself in the recipient's shoes, you too wouldn't want to be in 'email limbo' wondering what happened to the emails you sent.
Therefore a good practice is to regularly acknowledge receipt of emails. A simple message such as "Received, Thanks" would suffice. Others include: "Noted with thanks", "I'm on it," "Will do," and "Done."
You can include additional details as appropriate but at a minimum the sender would be reassured that their email was delivered.
3. Include a specific email subject line
The most important part of an email is the subject.
The subject line determines whether your email will be read or not, how soon your email will be read or if your email will be deleted altogether.
The subject captures the main purpose or summary of the email.
Take time to write a good and specific subject that immediately tells the recipient what your email is about. Think of subject lines like headlines for newspaper articles.
Some good practices for writing a subject line include keeping the subject line short; keeping the most important information at the beginning of the subject line; using numbers; writing a question and conveying a sense of urgency e.g. "This invoice needs approval asap."
4. Personalize your emails
Add a human touch to your emails by personalizing them. The simplest way to personalize an email is by including a salutation that addresses the recipient by their name.
Another way to personalize is to use the recipient's name once or twice in the main body of the email. You can also include the person's first name together with the subject line.
Make your emails friendly and polite through means such as thanking the sender for reaching out, and closing out with a warm and appropriate salutation.
Customize the email content to match the context and situation.
Also related to personalization, take a moment to double-check your "from" line. When you send an email who does it say it is from? Is that how you would like it to look like or are there any changes you wish to make?
The "from" line could show your name, your email, company, company website, department, name and company combined, an unattended mailbox such as 'do-not-reply' etc.
When people receive emails they also look at where it is from to decide whether to open it or not.
5. Include your email signature
Make it a practice to include an email signature especially when sending out external emails to people outside your organization.
At a minimum your email signature should include your name, title, telephone number and extension, company, physical address and website.
Other optional items to include are your social media profiles, head-shot, country code for telephone, email address, country, company logo and tagline.
Test all the links on your email signature to ensure they are working appropriately. Test the telephone number to ensure that you didn't mistype any numbers.
If your company has a branding style guide for email signatures, ensure that your signature adheres to it.
6. Respond to everything that has been asked on the email
When you have received an email with multiple questions, respond to every point or question as best as you can rather than responding to only specific sections.
Answering a few questions and ignoring the rest can trigger more emails to your inbox asking for the missing answers.
Also avoid jargon and abbreviations.
7. Verify if you have included an attachment
Forgetting an attachment is one of the common email mishaps. You have typed a good email with the intention of attaching a document but somehow it slips your mind to include the attachment.
Forgetting to include attachments also puts the recipients in an awkward position of emailing back to let you know the attachment is missing.
This can be further exacerbated if you had sent the email to many recipients who are now flooding your inbox over the missing attachment.
Endeavor to include an attachment and then open up the attachment to double check that it is the right one.
Advanced email systems can detect your intention to include an attachment if you use certain phrases such as "find attached" and alert you to the fact that you forgot to add the attachment.
8. Who do you want to take action – be specific?
Sending an email to many people on the "to" line and not specifying who exactly should respond, give feedback or take action can result in many people replying back and duplicating efforts or extra emails about who is responsible for doing what.
On the other extreme it could result in nobody doing anything since they think that someone else will handle the request.
Be clear to the greatest extent possible in terms of who you address the email to and what specific action or assistance you require from them.
9. Double check whose email address is on the 'reply to' line
It is important to always double-check whose email address in on the "reply to" line. Sometimes the autocomplete function can populate the incorrect email address.
Additionally, a good best practice is to always type the recipient's email address after you have completed typing your email.
The last thing you want to do is to accidentally send an incomplete email.
10. Block specific times to respond to emails
Rather than constantly checking your inbox all day long, deliberate schedule specific times when you will check your email.
Typical schedules could be once per day, twice per day such as mornings and afternoons, thrice per day or even once every hour.
Decide which schedule works best for you based on the expectations of your job.
One caveat to keep in mind is that if your job primarily revolves around receiving and promptly responding to email then by all means constantly check your email to maintain first response times for customers or colleagues.
11. Routinely check your spam or junk folder
Even though email systems have drastically improved and become sophisticated over time, once in a while an errant important email can take up residence in the junk folder.
Before automatically deleting the junk or spam folder, take a few moments to quickly scan all the items in there and verify that legitimate emails did not end up there.
12. Use great judgement before selecting "reply all"
Do you really need to "reply all"? More often than not, messages arrive on your inbox having being copied to multiple recipients either on the "to" or "cc" line.
If you have to respond to the email take a moment to think through whether your response will be of benefit just to the person who sent the original email or whether all the people copied need to see or be aware of your response.
13. Know your company's policy for email response time
Does your company have a standard policy regarding the expected response time for emails? What is the official rule regarding how soon you should respond to emails?
Some companies have policies that govern the turnaround times for emails, especially regarding emails from customers.
These policies can be publicly displayed on the company's website or social media profiles to give customers an idea of when their email would be addressed. It helps to manage expectations.
The policy could also address issues such as emails received outside normal business hours, weekends and public holidays.
It could also address the protocol for emails received when an employee is on vacation, sick leave or travelling on work assignment.
Find out whether your company has a policy for email response time and if it does take time to familiarize yourself with the required standards and put them to practice.
14. Strive for relevant and brief responses to emails
Aim to write emails that are clear, relevant and brief to the point.
15. Proofread your emails
After typing your email take a moment to proofread and edit it. Especially double-check if you have correctly spelled people's names.
Proofreading your emails conveys your professionalism and reduces chances of misunderstandings from omitted words or misspelled words.
Check also for the tone of your email, do you sound angry and annoyed or friendly and relaxed?
The tone affects how your message is interpreted by the recipient.
If you have included any links, click on them to verify that they are working.
Check if your sentences flow well or they need to rewritten and even reorganized to convey the message in a better way.
16. Respond to emails as soon as you possibly can
Respond to emails as soon as you possibly can, ideally within a day or less. For urgent emails respond sooner.
17. Know when to stop email ping pong
You might have encountered email ping pong at one point.
That email that you either sent initially or someone had sent it you and then one party responded and the other asked a clarifying question and you responded and they responded and on and on it goes.
At some point know when to instinctively bring the ping pong to a quick end by calling the person and discussing or setting up a meeting to clarify any outstanding or unclear issues.
18. Put an auto-responder when you are away
When you are out of the office, put an auto-responder that informs people the dates or times when you are unavailable to attend to their emails.
Include pertinent details such as the date when you will be available or back in the office and the name and contact of a colleague who can be reached in your absence to address urgent inquiries.
Upon returning to the office, double-check whether your auto-responder is turned off to ensure that it doesn't any notifications which can make you appear disorganized.
19. Delete emails regularly
Regularly delete emails from your inbox and sent items. Determine your own schedule and criteria for purging old emails.
You can also delete immediately at source once you receive an email, address it, and determine there is no need to keep it then delete it.
20. What to do if you forget an email
Despite our best intentions, once in a while an email might slip through the cracks and you forget to address it.
If you happen to forget an email, apologize and reply as soon as you can. Do not ignore replying.
21. Determine if you really need folders
I am not a big fan of folders within email. Folders work to a certain extent when you have a fairly low volume of emails being received every day, however once the volume starts ticking up rapidly folders can become a rabbit hole.
You can end up spending valuable time sorting your email and transferring them to the appropriate folders. This becomes a job responsibility on its own.
There is also the issue of out of sight out of mind, once an email has been moved to a certain folder there is likelihood of it being forgotten especially if some form of action or follow-up was required regarding that specific email.
If absolutely necessary you can have as few folders as possible for important information.
Endeavor to make the search function your friend and use it liberally to search for any email that you need using keywords such as specific words, topics, phrases, dates, sender name, recipient name, location etc.
22. Unsubscribe to manage email volume
At one point you might have subscribed to newsletters, magazines and other information sources or you were added to mailing lists for various information or promotions.
Now you are receiving constant emails that are mixing with your important or regular work email causing you to spend more time on your inbox.
Analyze which subscriptions you really need and then unsubscribe from the rest to manage the volume of email that you receive.
23. Prepare standard responses to customize and recycle
At some point in your job you will notice patterns where you are being asked the same questions over and over or in slightly different variations and also you are responding to the same questions with more or less the same answers.
Prepare a template for the answers that you provide repeatedly and then each time you receive the same questions, simply copy paste your standard answer and tweak it a little to personalize it then hit send.
This process will save you time in the long run.
24. Don't use email as a to-do list
You could be tempted to simply use your inbox as a to-do list, where you check which emails and requests you have received and then use this as the basis of planning your day.
The downside to this method is that it puts you on a constant reactive mode where you are responding to tasks and activities that have been requested or planned by others.
A proactive way to manage your day is to prepare a to-do list of the tasks that you want to accomplish each day and also add the email requests to your list then prioritize the tasks and go about your day.
The only exception to this method is when an emergency request comes via email and you have to drop everything to attend to it.
25. Make the telephone your friend
Each time you find yourself resorting to typing away a long email ask yourself "Do I really need to send this email?"
Perhaps a telephone discussion could be more appropriate, create more rapport and get you closer to your objectives faster.
Use the telephone as much as you possibly can to discuss work with others, plan projects and clarify any misunderstandings.
Then when you are on the same page you can simply send an email summarizing the agreed upon course of action.
26. Become good at using the search function
The search function in email is a time saver. It helps you to easily locate a specific email.
It also eliminates the need to have many folders where emails are sorted and saved according to various subjects, topics or other criteria.
A good investment to put into practice is taking time to master the search feature of your email. Read all the help instructions, tips and tricks.
Learn how to use advanced search and how to search different sections in your email including inbox, sent items, folders, archives and attachments.
27. Begin with the conclusion
Time is of the essence; begin your email with the main point, conclusion or the major request.
Save the recipient time by quickly telling them the most important information first then provide supporting information, background or specifics.
28. Send fewer emails
One reason why you could be receiving many emails is simply because you are sending many emails. Begin by editing your thoughts each time you feel the need to send an email.
Ask yourself if the email is necessary, what is the purpose of sending the email, is there another way you can communicate or get the information you want, is you request urgent, does it have to be in writing.
Sometimes you just need to send an informational update to someone in this case include words such as FYI (for your information) and no need to reply.
This reduces the pressure on the recipient for having the need to reply.
29. Turn off email notifications
The constant beep, chime or jingle each time an email arrives at your inbox can easily distract you from focusing on your work.
If the notifications go off all day long it means that you will mostly be looking at email for the better of the day rather than accomplishing the priorities on your to-do list.
Each time the beep goes off it triggers the urge to look at your inbox. Simply turn off email notifications.
30. Mark emails for follow-up
Some emails can be responded to on the spot whereas others require more time or follow-up at a later date. You can manage these types of emails by either marking them as unread or flagging them.
On the other hand, if you have given someone a task or deadline and need a response by a certain date, flag that email to remind yourself of the appropriate time follow-up or check-in.
31. Break your email into bullet points or numbered lists
Rather than writing your email in long sentences, a good practice is to break out key information using bullet points or numbered lists.
This makes it easier for the reader to skim and easily digest the information that you are conveying.
32. Do regular group check-ins to cut down on email updates
Cut down on the number of emails that you receive by conducting regular group meetings where team members update each other on the priorities they working on as well as tasks they are collaborating on.
The team meetings provide an opportunity to ask questions, probe and clarify issues rather than relying on email to accomplish these similar tasks.
Team meetings can be accomplished through regular face to face meetings, chat, video conference and teleconference.
Additional Resources on Ways to Manage Email Effectively
Summary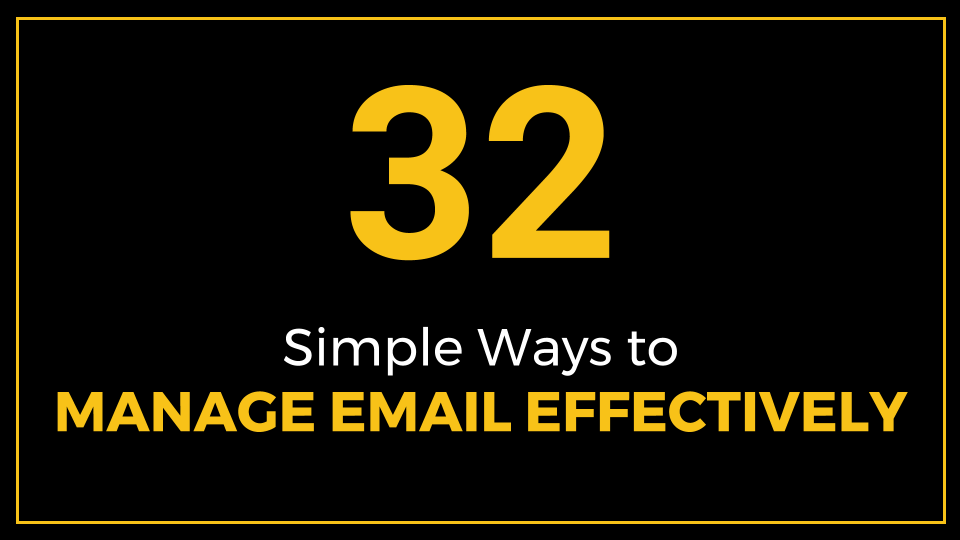 Article Name
32 Simple Ways to Manage Email Effectively
Description
This article discusses 32 simple ways to manage email effectively and help you deal with email overload. Tips to tame your inbox and control your email well.
Author
Publisher Name
Publisher Logo