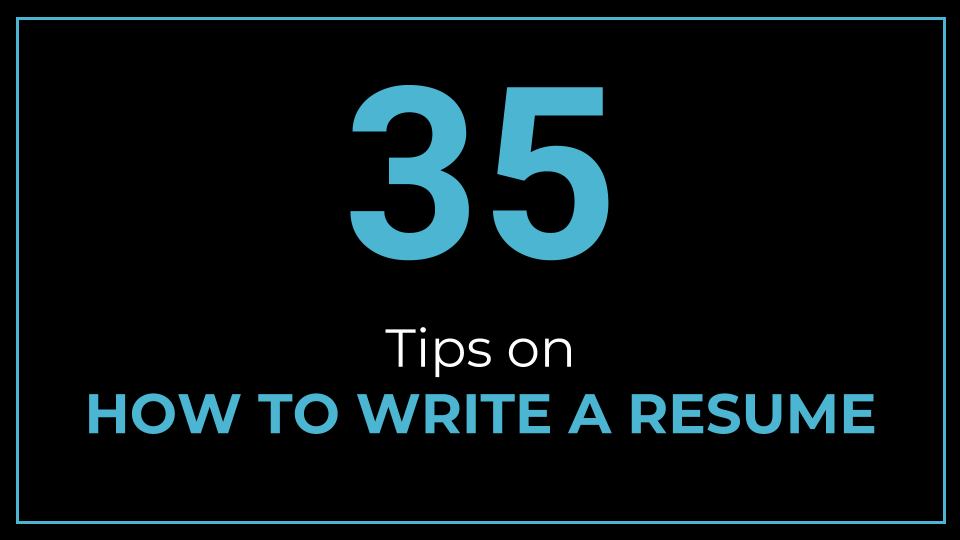 35 Tips on How to Write a Resume
This article provides great tips on how to write a resume. This is a comprehensive guide for building a resume from scratch and keeping it up-to-date.
A resume is one of the most important documents that you will write in your life.
The goal of a resume is to help you get an interview that would hopefully lead to the job that you want as quickly as possible and at the salary that you want.
Your resume should do a good job of selling yourself; it should act as your personal spokesperson.
Many people desire to have that great resume which will get them many interviews.
However, at a time when there are millions of qualified job-seekers, what can someone do to make their resume stand out from the crowd?
This comprehensive resume writing guide takes you on an in-depth journey, discussion and analysis on the structure and contents of a resume, development of a resume, and offers insights into how to make your resume stand out from the competition.
You can quickly skim all the 35 tips on the table of contents below and then click on any tip to read further details. Please enjoy reading. Thank you.
TABLE OF CONTENTS
1. Accomplishments That Employers Want To See
What are the minimum things that you typically want to see on a window display when window shopping before you are enticed enough to enter into a store or a shop?
When you decide to buy a car or a house, you typically have a checklist of "must haves" that you want to see before you commit to the purchase.
For example, when purchasing a house some of the things on your checklist include number of bedrooms, square footage, number of bathrooms, size of kitchen, location, and total cost.
Similarly when an employer is looking at your resume they are quickly scanning for some "must haves" that would entice them to read your resume further or even invite you for an interview.
Typically, an employer invests in you to provide them with your skills and services and in return you get a paycheck for providing those services.
However, before an employer hires you they need to determine what the potential Return on the Investment (ROI) is if they hire you.
What are the typical things that would be on an employer's 'window shopping' checklist?
Some of the "must-haves" that employers generally look for include the following:
Revenue increased.
Time saved.
Processes/efficiencies improved.
Customers added.
Money saved/costs cut.
Customer retention and satisfaction.
Leadership.
Skills transferred/other people that you have trained.
Teamwork.
Career growth.
Number of people supervised.
Initiative.
Decision-making.
New processes or systems implemented.
New products or services introduced.
Year over year growth and output – e.g. increased number of customers by x% as compared to last year.
Experience.
Knowledge.
Passion/Motivation.
Attitude.
2. The Mind Frame of Writing a Resume/Psych Yourself Up
Before writing, updating or customizing your resume, take a few minutes to mentally prepare yourself to be in the right frame of mind and mood to enjoy writing the resume.
Take some time to think and reflect about the job, think about what you are passionate about – what do you love doing?
Dream big, picture yourself or visualize yourself as having the job that you want, and envision how your final resume would look like.
Use this vision to get into a positive mood, develop a hunger to work for what you want, develop a winning mentality, think like a winner, learn from your past mistakes, psych yourself up and develop a game plan for writing, updating and customizing your resume.
Overcome productivity killers such as self-doubt, procrastination, worry and fear.
Find a time when you can you can really focus and concentrate on preparing the very best resume that you can.
Pour out your heart into designing a top notch resume that reflects both your passion and confidence in your abilities to do a job in an excellent way.
You need to muster strength from within because writing and submitting a resume and then getting a job is not guaranteed. It is a process that you might have to repeat over and over again.
It requires patience, perseverance, tenacity and the ability to bounce back even after you receive rejection or you don't hear anything back from the employer or you don't get the job you were hoping for.
Victory comes when you get your dream job. Seek inspiration, hang in there and encourage yourself. Below are a few quotes to encourage you:
"When everything seems to be going against you, remember that the airplane takes off against the wind, not with it." – Henry Ford
"Success consists of going from failure to failure without loss of enthusiasm" – Winston Churchill
"Perseverance is a great element of success. If you knock long enough and loud enough at the gate, you are sure to wake up somebody." – Henry Wadsworth Longfellow
"To accomplish great things, we must not only act, but also dream; not only plan, but also believe." – Anatole France
3. Dissecting the Job Opening
The first question to ask yourself when you see a job advertisement is whether you are a good fit for the Company.
The answer to this question lies in the marriage between the job requirements as advertised and your skills, abilities, qualifications and experience.
Is this a job that you would be able to do? Is this a job that you would enjoy doing? Is this a good Company? Why do you want to work there? How does this job fit into your career goals?
Dive into the job listing and see what things the employer cares about including the position responsibilities, skills requirements, educational requirements, work experience requirement and the reporting structure of the job.
Then match your qualifications with the employer's requirements and think of specific examples of what you have done in the past that would be of benefit to the Company.
4. Researching the Company
To better target your resume, read as much information as you can find about the Company that you are applying to.
You can read the Company's website, social media pages, annual reports, vision, mission, values, competition and about the general industry.
Watch any available videos about the Company.
The key is to try to be as knowledgeable about the Company as possible and use the information harvested to further refine and target your cover letter and resume.
Follow the social media pages of the Companies that you want to work in. Read and research as much as you can about a Company's culture – being a good cultural fit is important for both yourself and the Company.
Read the Company's blogs to see which things they care about. Read online reviews about the Company and see what others are saying.
Read about the key leaders and the leadership team. What products and/or services does the Company provide?
If available read and review financial reports and financial statements. Read news articles about the Company, what is their general reputation?
Read industry and economic reports about the industry that you are working in or want to work in, what are the trends and projections? Is the industry expanding or contracting?
You wouldn't want to join a Company that will go under shortly or a join a severely depressed industry. It is prudent to look out after yourself and your future.
When you find a job opening in a certain Company, conduct research to see if you can pinpoint who the hiring manager is and then send a targeted application letter.
Do your research through professional social media websites such as LinkedIn or by checking staff profiles on the Company website if these are available.
In addition do a salary search for your desired job position and see what are the industry standards for salary compensation as compared to what you believe is your worth.
5. Contents of a Resume
What is the purpose of a resume? A resume is the key to getting an interview and then the interview opens the door to a job opportunity to put your skills and talents to work and earn a living.
A resume's main work is to get you an interview, to showcase what you have to offer, to highlight your past accomplishments and to sell yourself.
A resume is all about advertising, marketing and selling your skills, experience, education and knowledge to potential employers.
We can borrow a leaf from the world of marketing and sales. Think back about the last few advertisement and commercials that you saw either on TV or any other media – which advertisements do you still recall?
Why do you remember them? How did they stand out from the crowd? What made them so memorable? What helped you to retain that information?
For a resume to do its job well it should have key elements such as your name, your contact information, resume headline, summary, work experience, educational qualifications and your specialized skills.
5.1 Your Name
The first item at the very top of your resume should be your name. This should be in bold and have the largest font size in your resume such as font 14-20.
5.2 Your Address
Write your current physical address below your name.
5.3 Contact Details
Include your contact details such as: telephone number, email address, link to professional social media profile, and a link to your personal website if you have one that would add value to your job search.
5.4 Resume Headline
This is the title of the job that you are applying for and it should be written just below the contact information and above the resume summary.
The resume headline can also be a bold and brief description of what you can offer or your proudest accomplishment – think in terms of an eye catching sales advertisement.
Put your headline in bold and center it on the page.
5.5 Summary
Take the most amount of time to write your resume summary. This section appears just below the resume headline and it should effectively show what you bring to the table, what are you biggest and boldest accomplishments?
It should summarize in a few sentences your work experience, your accomplishments, your skills and answer the question why you?
See more details in this article on the section titled "Demystifying the Resume Summary Section."
5.6 Work Experience/Professional Experience
List the name of the job titles or positions that you have held, write the name of the Company, city, state of employer, dates of employment.
Below each job that you have held, list your accomplishments. What difference did you make in the Company? What was your impact?
How much money did you make or save for the Company? How much time did you save?
What new processes and systems did you roll out or implement? How many new customers did you bring in?
Demonstrate leadership and good communication skills. Show that you are good at solving problems and that you focus on results.
Quantify your accomplishments – include statistics, quantities, percentages and numbers. Please do not exaggerate roles accomplishments.
See the following two sections here on how to write accomplishments: "How to Identify Your Accomplishments" and "Storytelling/How to Develop Stories for Your Accomplishments."
5.7 Educational Qualifications
List down your educational qualifications starting with the highest qualification and working backwards/in reverse.
Include the name of the University or College, the location of the university (city, state, Country if international), start year and graduation year or expected graduation year and the name of the degree.
5.8 List of Specialized Skills
Include a brief section of your technical and specialized skills and abilities.
What are you very good at? Highlight skills that are relevant to the job that you are applying for.
Showcase your language skills on your resume – in today's job market bilingual and multilingual language skills are a hot commodity.
Carefully read the job posting to identify the critical skills that the employer requires.
For every skill that you list, ensure that you provide context about how you put this skill in action.
The best place to show and highlight your skills in action is on the accomplishments section of your resume.
5.9 Significant Awards or Recognition
This is optional but is a good way of making your resume to stand out from the competition.
You can list important awards and recognition from your employer or your industry, for example, if you have been recognized as the "Employee of the Year", or "Employee with the highest sales", or "Best customer service professional of the Year" etc.
This shows potential employers a different, independent and impartial dimension of the value that you bring to the table because these are awards that you have been given by others based on your hard work, value and contribution.
6. Demystifying the Resume Summary Section
The resume summary section is the "you rock" section. This is where you should dazzle the reader with your value and awesomeness. This is where you demonstrate your "it" factor.
You should show here why you are a rockstar, superhero or a superstar. This is your audition for an award winning, Oscar winning performance.
This is where you make a good first impression and draw in the hiring manager or recruiter to read the rest of your resume.
Bring out the sunshine from the get go. Since the summary section is among the top real estate of your resume, you have to make sure that the "house" (aka your summary) is properly staged before prospective buyers come for the "open house".
When staging a house for sale, the primary purpose of staging is to highlight the strengths and strongest selling points of the house in order to sell the house as quickly as possible and at the best possible price.
The reason for staging a home is to help the potential buyer to imagine and visualize themselves as the new owners of the house and to experience how it would be like living there.
Similarly when writing your summary section, take time to think about the critical elements that you want to showcase and highlight to guide in the hiring decision.
Your goal is to give the recruiter or hiring manager a visual impression of what it would be like if they hired you. Your summary must be customized for the job that you are applying for.
Think of it as a brief one-paragraph executive summary that encourages the reader to dive into your resume.
A snapshot paragraph where you demonstrate that you deliver results beyond expectations, where you demonstrate how high you raise the bar and where you demonstrate why you are the real deal.
Always remember to be genuine and authentic in your summary.
7. How to Identify Your Accomplishments
Below are 15 questions to prompt yourself when you are trying to identify and write down your accomplishments:
Did you increase sales? How and by how much?
Did you improve processes? Which processes?
Did you train others? Who did you train and on what?
Did you increase customer retention and satisfaction? How?
Did you bring in new customers? How many?
Did you penetrate new markets? Which ones? Market size?
Did you save the company money? How and how much?
Did you go above and beyond your job responsibilities? How?
Did you lead or manage projects? Which ones?
Did you work well with others in teams? What was your contribution to team success?
Did you propose unique solutions to solving problems? Examples?
Did you implement new systems? Examples?
Did you launch a new product or service? Examples?
Did you save the company time? How and how much time?
Did you lead others? Who did you lead?
8. Storytelling/How to Develop Stories for Your Accomplishments
Add life to your resume with stories. Start off by drafting 2-5 sentence stories for each significant work accomplishment.
State what the challenge, problem or situation was, state what you did and then point out what the results were.
After you have written down at least 5 stories like these for each job that you have held, the next step is to edit each story.
Chop it off as much as possible down to at least 1 or 2 concise sentences but at the same time keeping the essence of the input that you did and the subsequent results.
Aim for short, truthful and punchy accomplishment stories in this format – I did X and the result was Y (make the claim and provide the evidence) what were the results? How did it benefit the employer? Talk about results.
9. Power Words for Resumes
When writing a resume, it is vital to include action verbs that truly showcase your talents and value.
Some action words to use on your resume include: accelerated, achieved, generated, implemented, completed, formulated, developed, improved, resolved, initiated, increased, surpassed, overhauled, led, managed, supervised, redesigned and achieved.
Other power words to add are: evaluated, simplified, reduced, negotiated, facilitated, proposed, customized, volunteered, reorganized, presented, marketed, sold, generated, diagnosed, budgeted, pioneered, analyzed, solved, upgraded, invented, coordinated and launched.
10. How to Show Multiple Positions at One Company on Your Resume
One of the dilemmas that you are likely to face when completing your resume, especially if you have one worked in one Company for a long time, is how to list your jobs on your resume.
The key thing to keep in mind is that you want to show growth over the years.
Therefore, even though you have been in one Company for say 10 years, you want to demonstrate that you were not doing just one thing all that time.
Two ways to list multiple jobs at one company on your resume are: Bundling Method and Snippets Method.
10.1 Bundling Method
In this method you begin by listing out all the different positions that you have held, starting with the most recent position and their corresponding start and end dates.
After listing all the positions, you then list an assortment of your best and proudest achievements from all the roles that you have held.
For example:
Company XYZ – City, State
Accounting Manager: January 2008 – December 2015
Senior Accounting Associate: January 2004 – December 2007
Accounting Assistant: January 2003 – December 2003
Bookkeeper: January 2000 – December 2002
However, if you have held so many positions in one Company, it would be smart to list the five most recent positions.
Then have an extra line below the fifth position (such as Bookkeeper in the example above) that says – "Other Positions held" then you can write the titles in a brief sentence.
10.2 Snippets Method
In this method you list the name of the Company, and then individually list each position that you have held, and highlight a few bullet points/snippets of achievements that are specific to that position.
You keep repeating this process for each position that you held.
This method is also ideal in cases where the jobs that you have held are different, for example if you started off your career in one department and then moved to a totally different department such as from Accounting to Information Technology.
11. The Importance of Keywords on Your Resume
Job advertisements typically have specific keywords or trigger words that highlight what the employer is most interested in.
Study these keywords well, understand them and what they mean then in a natural way add the most important keywords into your resume and provide context or examples of your achievements that relate to the specific keywords.
In other words show the keyword in 'action'. It is smart to naturally weave in the keyword into your resume such as when you provide an accomplishment that both uses a keyword and explains how you executed on that specific keyword.
Watch out for keyword density or keyword overload; do not repeat a keyword so much that it becomes counterproductive.
Edit yourself and strike the right natural balance.
If employers are using scanning software or Applicant Tracking Systems to scan/screen resumes for keywords and rank them accordingly, you stand a better chance of rising to the top of the pile.
However don't make the mistake of bundling keywords in one section of your resume and hope that this will do the trick – spread them around wisely.
12. 15-Point Resume Completion Checklist
After you have finished writing your resume, it is important to double-check a few key facts against a checklist to ensure that your resume is in excellent shape and ready to do an effective job of selling you to get an interview.
Below is a sample 15-point resume completion checklist, the objective is to answer "yes" to each question.
Is your name included at the top of the resume?
Are your current contact details included?
Is a summary included?
Have you included correct university start and end dates (years)?
Have you included correct job start and end dates (months and years)?
Have the correct job titles been matched with the respective company?
Have you included city and states for each job listed?
Have you double-checked if the Company still has the same name?
Have you included your achievements at each job?
Have you used bullets to highlight your accomplishments?
Have you included your skills?
Does your resume have proper eye catching formatting and layout?
Does your resume have proper length?
Is your resume targeted to the job opening, including relevant keywords?
Have you proofread your resume?
13. How to List Company Name Changes on Your Resume
Change is an inevitable part of life. Companies too are not immune to change.
In today's competitive business environment, Companies evolve all the time and undergo re-branding where they could change their name.
In addition, a Company could undergo a merger or acquisition resulting in a different name or acquiring the name of one of the merging parties or a combination of both Company names.
Also a Company could go out of business.
Therefore, if you worked at a Company that underwent any of the above changes, how would you list the Company name on your resume?
First of all your work experience and accomplishments still count and matter even if the Company has gone out of business.
In this case list the name of the Company as it was known when you were working there and highlight all the wonderful achievements and results that you produced.
If the Company name changed long after you left, you can list the current Company name and in brackets/parenthesis put the former name it was known by when you were working there for example XX Company (previously known as YY Company).
Or alternatively you could put a brief explanation in parenthesis as well. In this case you explain in parenthesis what the Company was called when you were working there.
If the name change happened when you were still employed in that Company then you simply list the new Company name on your resume.
If the Company was acquired after you left, list the current Company name on your resume and provide an explanation as follows: Current Company Name (previously known as ABC Company acquired by XYZ Company or merged with ABC Company.)
If the merger or acquisition happened while you were still employed simply list the new Company name in your resume.
One more tip: Always double check if Companies that you have worked for in the past have undergone any name changes and reference this appropriately on your resume.
It is important to point out on your resume the Company name changes and Company transitions because Company name inconsistencies can cause challenges and delays during employment background reference checks.
14. How to List College Name Changes on Your Resume
Universities and Colleges also re-brand, undergo name changes or are merged with other Colleges or acquired or go out of business.
If your College changes its name while you are still attending or enrolled then you simply list the new College name on your resume.
However, if the name changed after you graduated, you would then list the new name and in parenthesis put the former name it was known by at the time you graduated.
If the College has since closed down you simply list the name as it was when you graduated.
15. Visual Test for Your Resume/The Art Gallery Test
For your resume to standout, among other considerations, it has to be visually appealing and easy on the eyes. Do the following two tests to examine the visual appeal of your resume.
The first test is to open up your resume on a computer screen and then walk back 10 steps – how does your resume look from a distance? Is it well balanced or is it cluttered?
The second test is to print your resume and tape it to a wall then step back and act like an artist inspecting a painting, think of your resume as a piece of art hanging in a gallery – how does it look? Is it too busy?
Is it painful to look at or is it pleasing to the eyes? If it were hung-up in an art gallery how much traffic and viewers would it receive? What could you do to enhance its aesthetics? Ask a trusted friend for a second opinion.
What makes a painting stand out from other paintings in a Gallery?
Alternatively think about what makes an interior design of a house pop-out, mostly it is about the good organization, lack of clutter, tasteful ensemble, deliberate editing and brevity.
You can apply the same skills to designing your resume.
16. Common Resume Mistakes
Here are 28 resume mistakes to avoid:
16.1 Spelling mistakes and typos
It conveys the message of lack of attention to detail and not investing the extra time to double checking your work.
Proofread your professional online profiles as well.
16.2 Very tiny font size
You do not want others to struggle to read your resume because the font is too small.
The ideal font size on a resume is 10-12.
16.3 Including images and a photo on your resume
Do not include images. They are distracting and can affect the readability of your resume by an Applicant Tracking System.
16.4 Listing responsibilities
Do not list responsibilities, list strong achievements/accomplishments in a story-telling format as explained in this article.
16.5 Too many upper case letters
Unless it is absolutely critical, limit the amount of capital letters on your resume.
16.6 Using jargons
Whereas jargons and technical terminology are standard practice in some industries, they might not be common knowledge to others outside those specific industries.
Especially jargons that are specific to one Company have to be explained properly for others to understand them. Avoid using jargons in your resume as much as you can.
16.7 Including the word "I"
Since the resume is about you, there is no need to include the word "I".
Simply write in choppy sentence format such as instead of saying "I trained 7 new staff" say "Trained 7 new staff."
16.8 Using acronyms
Avoid using acronyms because nowadays acronyms can have so many different meanings.
It is safe to spell out the name or description in full followed by the acronyms in parenthesis.
16.9 Not customizing your resume
Your resume should be tailored towards the specific requirements of a specific job opening.
Don't use a one-size fits all resume, ensure that your resume is as focused and as targeted as possible.
16.10 Not addressing an incomplete degree on your resume
If you have not yet finished your degree, ensure that you state the expected or anticipated completion date (month and year) so that it does not appear like it is a completed degree.
Also you can mention that the degree is in progress or ongoing.
16.11 No page numbers
If your resume is longer than one page, ensure that the second page has a page number.
There is no need to include a page number on the first page.
16.12 Using too many colors
The safest color scheme to use on your resume is black and white. However, as part of your personal branding you might want to use a bit of color on your resume.
It is advisable to use good judgement on the choice of colors to use.
Some light colors when printed on a black and white printer might become unreadable so proceed with caution.
16.13 Using tables and images
Tables and images can interfere with Applicant Tracking Systems.
16.14 Listing references on resume
Don't list references on your resume also don't write "References available upon request."
16.15 Over relying on spell checkers
A spell check program can miss out some mistakes such as words that are spelt correctly but are in the wrong context such as "if" instead of "of", hence the need to manually proofread and edit your resume.
16.16 Lying on the resume
Don't lie on your resume. When employment background checks are conducted, glaring discrepancies and inconsistencies can be fatal.
Be truthful and honest.
16.17 Not using bulleted lists for your accomplishments
Bullet points help your accomplishments to stand out from the rest of the text on your resume.
16.18 Putting a career objective
Do not include a career objective; instead put a brief and powerful summary that showcases who you are and what you can do.
16.19 Inappropriate or over the top email address
Do not use an unprofessional email address.
At the same time do not use your Company's email address on your resume.
16.20 Not using keywords on your resume
Use relevant keywords that would be used by a screening system to match the skills and qualifications on your resume to the requirements of the job.
Keywords that are used on the job posting will give you a clue of what is needed by the employer.
16.21 Poor layout and formatting
Ensure that you use consistent formatting throughout your resume.
Don't go overboard with different font types and sizes. Simplicity and uniformity will go a long way.
16.22 Incorrect information and wrong contact information
Incorrect information such as wrong start and end dates for jobs, wrong titles or positions.
Wrong contact information including outdated, mistyped or transposed information.
Test the email on your resume by copy pasting it and call the telephone number that you have included on your resume.
16.23 Including Personal information
Personal information such as age, marital status or religion should not be included in your resume.
16.24 Including salary requirements
Do not include salary requirements on your resume, unless the employer has specifically requested for the salary information to be included.
16.25 Overcrowded resume
Ensure that there is enough white space spread around your resume.
This will make it easy to read and draw attention to the important information on your resume.
16.26 Improper use of tenses
Mixing present tense and past tense for old positions; old or previous positions should be written in past tense whereas current positions should be described using present tense.
16.27 Forgetting to attach your resume to the application email
Remember to attach your resume to your application email; double-check to verify that the attachment is included.
Luckily nowadays email technology has improved and can give you a warning or a prompt if you hit send and had mentioned that something was attached but in actuality the attachment is missing.
Go a step further and open the attachment to verify that you have uploaded the correct document.
16.28 Not knowing your resume
This applies especially during interviews. It is very important to know what is on your resume.
Interviewers will ask you questions about the contents of your resume and it wouldn't reflect well on you if you are unable to answer a question about something on your resume or if you are unfamiliar with something on your resume.
17. Maintaining a Resume Log
Once you have developed a stellar resume and a cover letter and you are ready to start applying for jobs, it is important to maintain a running record, diary or logbook of the jobs that you have applied to.
A resume log will help you to keep track of the jobs that you have applied to and prevent you from making mistakes such as applying for the same job twice.
Your resume management tool or log (ideally in a spreadsheet with 9 columns) will outline the following information:
A Column for Numbers: this column simply shows the numbers in an ascending order.
Job Title/Position: this column shows the job title that you are applying for.
Company/Organization: shows the name of the Company where you are applying for the job.
Job Posting Source: shows where you saw the job posting advertised.
Date of Job Posting: shows when the job was advertised.
Application Date: date when you submitted your resume and cover letter.
Contact Details: of the Company and the representative to whom your job application is addressed to (if known).
Feedback: note down any feedback that you receive from the Company such as – received a regret, scheduled for a telephone interview on date x, scheduled for first face-to-face interview on date y, got a job offer after interview etc.
Notes/Comments: Write down any special notes and comments that you have e.g. remember to send thank you letter after interview.
18. Confidentiality Considerations and Non-Disclosure Agreements
In some Companies, employees are required to sign Non-Disclosure Agreements (NDA) or Confidentiality Agreements where they agree not to disclose certain non-public business information either during the time that they are employed and/or after leaving employment.
The basic reason being that this information is considered confidential, trade secret or is restricted to the public.
Confidential information could include client lists, marketing materials, sources of funding, research data, non-public financial information etc.
One thing to take into consideration when writing your resume is the unintentional release of confidential company information.
For example you might want to write as your accomplishment – increased total sales by $500k last year however, the Company that you work for or used to work for does not want this kind of information to be public, or maybe you want to say landed big clients such as x, y and z but the Company prefers to keep their client list confidential.
These are a few things to keep at the back of your mind when writing a resume.
A better alternative is to use percentages to put across the same point without stepping on your Company's toes such as increased total sales by 20% over the previous year.
19. What to do after You Finish Writing Your Resume
Here are 9 things to after you complete your resume:
19.1 Proofread it
The very first thing to do after you finish writing your resume is to proofread it and correct any typos and spelling mistakes.
19.2 Edit it
The next step after proofreading is editing. Does everything written make sense? Have you included too much or too little information?
19.3 Double-check the dates
Check and re-check again your start and end dates for different jobs and for different educational qualifications.
19.4 Name saved under?
What name have you saved your resume under? Some common saving or naming formats for a resume include your first name, last name, resume, job title and company name.
You can also go a step further to add date to the name under which your resume is saved under (i.e. your name-resume-job title-company-date.)
19.5 Read out your resume aloud
It might seem a bit odd at first but this practice helps you to catch mistakes and sentences that do not flow well or do not make sense at all.
19.6 Compare information in your professional social media profiles against your resume
This is a critical step to ensure that there is consistency in the information that is on your resume versus the information that is on your professional social media profiles.
There should not be any discrepancy or inconsistencies.
19.7 Test if the link to your professional social media profile is correct and working
If you include any links on your resume, copy paste them onto a new browser to double check if the links are correct and are working.
Sometimes the website links can be very long and you could consider using a link/URL shortener.
19.8 Double check your basic contact information
Have you recently moved and changed your address? Is your telephone number and email address the same?
Check if you have included your most current contact information.
19.9 Final format
It is ideal to save and submit your resume as a PDF document unless the employer has specifically requested for another format.
A PDF helps to consistently retain all the formatting that you have done on your resume.
20. Professional Online Presence/Professional Social Media Profile
To boost your personal branding, it is relevant to consider having a professional social media profile on websites such as LinkedIn.
It is highly likely that recruiters would look at your professional social media profile when you are short listed for an interview or even when your resume is being reviewed.
In addition, recruiters actively search for candidates on professional social media sites and if you don't have a profile you could be reducing your chances of being contacted and possibly getting the job that you desire.
It is vital to have a complete and up to date professional social media profile that markets you in the best light possible.
Below are 23 steps on how to complete a professional social media profile on LinkedIn.
Step one is of course to open a professional social media profile if you haven't done so already.
Then complete your profile using your resume as a guide.
Include a headline that distinguishes you. It could be your current job title and where you work or a more compelling brief and creative statement about your highest qualifications or your greatest skills or best accomplishments or what you would bring to the table or what you want to do.
Upload a smiling professional headshot photo. This one is an obvious suggestion but a good reminder to make sure that you upload a smiling headshot of yourself because a smile radiates warmth.
Include a great summary that tells a brief story of who you are, what you have done, what you can do and what you want to do.
Include bullet points of your top accomplishments at each of the jobs where you have worked in the past.
Choose a customized URL (Uniform Resource Locator) that has your name at the end of the URL, such as LinkedIn.com/in/yourname.
You can add a portfolio of a few high quality work samples or examples that you are proud of.
Showcase your language skills.
Solicit for recommendations from former workmates, teachers, business partners, volunteer community etc.
Proofread your online profile and check for spelling and grammatical errors.
Network, network, network. Reach out to people who you have worked with, gone to school with or know them in other professional capacities and add them to your professional network. Keep building your network on a regular basis.
Join a few good groups in your niche area or your areas of interest.
Read articles published by others that will help to improve you both personally and professionally.
Follow the Company that you work for.
Follow the Companies that you want to work for.
Search for a few inspirational influencers who speak to your heart and follow them.
Recommend others.
Ask for introductions/referrals.
Include your community experience, volunteering gigs and causes that you care about.
Update your profile on a regular basis.
Comment on articles, postings and discussions that make an impression on you.
Share the love with others and give kudos to your connections when they have milestones such as work anniversaries, new job, job promotions etc.
21. 3,000 Mile Check-up for Your Resume
One of the traditional and regular preventive maintenance routines for cars is the 3,000 mile checkup.
During this checkup, typical things that are inspected include checking tire pressure, air filters, tire rotation and changing the oil.
(Although technological advancements in car manufacture and use of synthetic oils have enabled the interval between oil changes to be much higher than 3,000 miles but that is an entirely different topic.)
Nevertheless, the idea or principle behind the 3,000 mile checkup is to keep your car running in good condition and save you money in the long run since preventive maintenance can protect you from future costly repairs that could be caused by neglect.
The 3,000 mile check-up is done on an average of 3 months intervals meaning that on average a typical car will do a checkup 4 times a year.
After you have written your resume and successfully gotten a job, that should not be the end of it. A resume is a "living" document which you should regularly review and update.
Just like the lube shop puts a reminder sticker on your windscreen to remind you of your next scheduled 3,000 mile check-up, likewise make a mental note or better yet put a calendar reminder to remind yourself of your next quarterly resume check.
Adopt a regular maintenance schedule for your resume. Check the pulse and heartbeat of your resume.
Regularly check for alignment between your short term and long term career goals and objectives.
Measure your performance; keep a running record or log of accomplishments done in the last 3 months then put a summary of these achievements on your resume.
Constantly update your resume as you move along. The idea is to always keep your resume live and up to date by at least checking it on a quarterly basis and adding anything new to it.
In addition, read at least one or two articles on resumes per quarter and see if there are any new resume trends, styles, any specific things that are being looked at by recruiters, and any new advice and tips that are out there.
Each time you read you could learn a new tip or trick that could prove valuable to you and others in the long run.
22. How to Write Your Biography
Once you have completed writing your resume, invest some quality time to write your personal biography. It can be anything from a couple of paragraphs up to one page long.
You never know when you would need to provide your bio at a moment's notice and rather than hastily putting one together at the last minute which might not capture your true essence completely, it is best to work on your bio in advance of when you might need it.
A bio might be needed by a new employer when you start a new job and they want to introduce you to other staff or the public either through an email, intranet, company newsletter, verbal introduction or even a press release.
Perhaps your employer might require a bio to put on your staff profile on the Company's website. You might also be invited to workshops, events and conferences where your bio is required.
You can also use your biography for networking to showcase your skills and what you have to offer. You can give out your bio to family and friends, or even post it on your personal website.
Unlike a resume which could be targeted to a specific job opening, when networking you might not know the specific job that might be available so a bio can be your next best weapon to use to target prospects.
A bio also takes off the pressure on others who when they see a resume automatically think that you want a job but on the other hand, they might be more receptive to reading your bio instead and if sufficiently interested and they happen to know of a potential job opening, they could refer you or tell you to apply directly.
Your biography will explain key things such as who you are, what you have done, what you want to do, your credentials, years of experience, what you are good at and passionate about, some words to describe you, key skills, something unique and interesting about you, and your contact details.
Remember to write your bio in the third person. Instead of saying "I am a Graphic Designer who specializes in xyz" say "Susan Hill is a Graphic Designer who specializes in xyz."
It might feel a bit odd writing in the third person so one little trick you can employ is to first of all write your biography naturally using "I" statements then after you have finished you then convert the bio to third person so that it reads as if it is someone else who is describing you similar to how a speaker's bio is read when they are being introduced to give a speech.
Think and plan ahead when preparing your biography. It should be a living document which you edit and update accordingly as you progress in your career.
One more tip to consider if you are bold enough: try writing a brief and punchy bio that fits on one side of a business card and on the opposite side put your contact details.
23. Words to Avoid Using on Your Resume/The Cliche List
These are words which have been so overused in resumes that they have lost their flavor. The words can describe just about anybody and they do not really bring out your true value and uniqueness.
Avoid using these words and instead use action verbs that showcase your skills and contributions to the success of your employer.
Here are 17 common resume cliches: Team player, results-driven, problem solver, goal-oriented, hard worker, detail oriented, people person, good communicator, highly motivated, highly qualified, dynamic, extensive experience, go-to person, outside the box thinker, self-driven, self-starter, and bottom line thinker.
24. Your Professional Accomplishments Portfolio
As you progress in your career, you will achieve both failures and successes.
Reflect on failures and learn from them as much as you can and at the same time take stock of your successes and things that you are proud of having achieved.
A good investment is to keep an inventory of your professional accomplishments, it could either be an electronic or hardcopy file or folder where you record and document positive recommendations that you have achieved, awards, honors, recognition, articles you have written, your publications, your biography, and copies of congratulatory emails.
Other records could include copies of speeches that you have given, important PowerPoint Presentations, catalogues, writing samples, performance evaluations, testimonials, reports, research papers, old copies of resumes and cover letters, prototypes, inventions etc.
Your professional accomplishments portfolio will be a constant reminder to yourself of the value that you offer and at the same time help you in developing concrete examples for achievements to include on your resume.
Your accomplishments are the evidence of your great skills and abilities.
Your accomplishments are the deposits that you have in your achievements 'bank account' and you can withdraw from this account to add value to any new job, career, employer or business.
25. Resume References
You should always think about who you want as your professional references and reach out to them to request them to be references and also to let them know that you are looking for a job and what type of job.
Whenever possible and appropriate, give your references an updated copy of your latest resume so that they are aware and reminded of which skills and accomplishments you want to give the greatest attention to.
Your reference should be able to speak objectively about your strengths and weaknesses.
Choose someone who has first-hand knowledge about your work skills and abilities.
In many instances, references will be previous employers, supervisors, work colleagues and Human Resources representatives.
Do not include references on your resume; these will be provided when the employer asks for them usually through employment application forms or in the course of the interviewing process.
Do not write on your resume – "References available upon request." Remember to thank your references after they give positive reviews that help you to get a job.
Develop a one page references list which should have the current contact information of at least 3 of your job references including name, telephone, email, company, work address, and current job title.
Make a note of the relationship between yourself and the reference such as former supervisor, former colleague/co-worker, Human Resources Manager, teacher etc.
Your job references list should include your name and contact information at the top of the document.
26. How Long Should Your Resume Be?
A resume can ideally be between 1 to 3 pages.
It all depends on how much work experience you have and the key achievements that you want to include for the various jobs that you have done.
The good thing nowadays is that you can keep your resume brief but at the same time also have a more detailed online professional profile and include the link to your profile on your resume.
If your resume is more than one page, your most important information should be on page 1. Page 2 should provide additional supplementary information.
Follow your gut on how much information you should present on your resume and be able to edit yourself to avoid going overboard.
27. Turn up the Volume with a Video Resume
One bold way of cutting through the job competition is by complementing your traditional resume with a video resume.
You can let your oral communication skills shine through as you talk on a video. You also get a chance to show your unique personality.
In addition, you can showcase examples of projects that you have worked on in the past or perhaps even show some real examples of your skills in action. It is best to keep the video presentation short; no more than two minutes.
A word of caution however, videos can be very subjective. Moreover if your video quality and sound is not good it could work against you.
A good professional video could be expensive to produce. On the flipside, the cons of a video should not discourage you. Look for a friend who is good at shooting videos and find a room with good lighting.
You can get good video editing at freelancing websites at an affordable price. If you can afford professional video production then go for it.
Thoroughly read and understand the job posting and ensure that you are addressing on your video what the job requirements are asking for.
Once your video is ready you can include a private link to your video on your resume or cover letter with a brief explanation of what the video is about.
Recruiters will be likely to click to your video even if it is just out of curiosity. This will give you an opportunity to stand out from the competition, and perhaps even initiate a personal connection with the recruiter.
By going the extra mile, you effectively demonstrate from the get go that you are about going above and beyond.
28. Resume Tips for Recent College Graduates
If you are a new college graduate with little or no work experience, but you still need a resume, what should you do?
If your work experience is not extensive, you can start off by listing your educational qualifications on your resume immediately after your resume summary instead of starting off with your work experience.
The easiest resume format to use will be the reverse chronological format. Use the resume structure highlighted here under "Contents of a Resume."
If you are preparing a completely new resume, see the various tips here under "Resume Samples, Resume Templates and Resume Builders."
List the name of the university or college that you attended, year when you joined and month and year when you graduated.
If you have not yet graduated, you can write in parenthesis the expected graduation date as follows (Expected month, year).
List the degree name and list degrees in reverse chronological order starting with the newest to the oldest. Include your major and minor.
If you have a high cumulative GPA of 3.5 and higher you can list it at your discretion and you can list major coursework that you have done.
Under work experience, think through any summer jobs, internships and volunteer opportunities that you have done.
Write down your work experience in reverse chronological order starting with the current/newest job title to the oldest job title, Company, city, state, month year start date, month year end date and highlight your key accomplishments and contributions.
To help you pinpoint your work achievements, see the section here on "How to Identify Your Accomplishments." Remember to include a skills list and highlight the technical and soft skills that you possess.
As an option, you can add a section called Transferable Skills. In this case think of transferable skills that you have learnt and acquired in college and think of how to frame an accomplishment story around those skills.
For example: Played in a volleyball team that won x championships, practiced four times a week for three years, learnt to follow coaching directions, improved endurance, competence and skill level, faced failures and defeat and learnt to overcome failure, worked within a diverse team, strategized and communicated with team members during games on how to win, learnt to trust and support team mates, learnt about my strengths and weaknesses and how to improve on my blind spots.
The Transferable skills here include: Teamwork, Interpersonal communication, Determination, Tenacity, Self-awareness, Cooperation, Dependability, Hardworking, Motivated, Ability to take direction, and Willingness to Learn.
29. Resume Samples, Resume Templates and Resume Builders
Resume samples, resume templates and resume builders all help to answer the question – How do I write a good resume?
Writing a resume from scratch can be a difficult and intimidating task however, there is an abundance of resources online to give you inspiration and help to make your resume writing process easier.
29.1 Resume Samples
They provide a good visual aid of how a good resume should look like. A resume sample can guide and inspire you as you develop and customize your own resume.
Some Resume Samples can be found on the following resources:
ResumeGenius – This website lists resume samples according to Job & Industry such as Accounting & Finance, Customer Service, Retail, & Hospitality, Nursing & Healthcare, Food Service and Office Worker. This website also lists sample resumes based on type of resume format such as Reverse-Chronological, Functional and Combination.
TheBalance – Lists sample resumes according to job and type, resume format and even resumes for special circumstances such as a career change. It also goes an extra step and shows an example of a Curriculum Vitae (CV).
Monster – This website shows sample resumes based on different types of jobs or professions.
LiveCareer – This website shows resume examples based on type of industry and job titles.
29.2 Resume Templates
Keep in mind that the best resume template is the one which you have designed and customized for yourself.
The main risk of using a resume template is that your resume could end up looking like thousands of other resumes whereas you want your resume to stand out and be unique.
Some Resume Templates can be found on the following resources:
Hloom – Here you will find a variety of resume templates.
ResumeGenius – Here you will find different types of free resume templates and layouts.
29.3 Resume Builders
These are software or online programs that help you to build your resume easily with simple step by step instructions.
If you are struggling with preparing your resume from scratch, one option that you could consider is using a resume builder service – some services are free, some have free trial periods and some require payment.
If you choose to go this route simply type "Resume Builder" on any search engine and you will get results for organizations and websites that offer this service.
30. Resume Formats
There are three main types of resume formats, namely: reverse chronological, functional and combination/hybrid of both chronological and functional.
All the resume formats below should start off with the standard summary section and a listing of key skills.
30.1 Reverse Chronological
This is the most common resume format.
It lists your work experience and accomplishments in a sequential way starting with your most recent work experience or current job and then you proceed backwards listing all previous jobs that you have held in the past and the corresponding accomplishments.
This format also lists your education in reverse order. This resume type or layout shows your career path and growth/progression in an easy to follow manner.
30.2 Functional
The functional resume prominently lists the key skills that you have and then all your current and previous work experience and accomplishments are categorized under each respective skill.
The major skills are listed under a heading such as professional experience or experience highlights or relevant experience or any other appropriate heading.
Skills to highlight could include Leadership skills, Negotiation skills, Technical skills, Customer service skills, Organization skills etc.
After listing your major skills and the respective accomplishments under each skill, under a new heading such as employment history or work history, you then individually list the title of your current and previous jobs, the Company name and city of the employer and the dates when you worked.
You will then wrap up your resume by listing your educational qualifications.
Functional resumes are used when you have a lot of gaps in employment, have little work experience, have held a lot of unrelated jobs, when trying to change your career, when showing transferable skills or you simply want to showcase or highlight critical skills that you possess.
30.3 Combination/hybrid of both Chronological and Functional
A combination resume simply includes elements of both the reverse chronological and functional resume where you aim to capture the best of both worlds.
This type of resume might be a bit hard to prepare but with some practice it can be done.
The combination resume lists the job or position that you have worked in and then further segments each job according to key skills that you have such as Analytical skills, Interpersonal skills, Leadership or Management skills, Communication skills, Decision making skills etc.
Below each skill you then list the main accomplishments or achievements that you did that relate to that specific skill.
You then repeat the process for the other jobs that you have held in the past. Be careful to avoid being repetitive because the same accomplishments can feed into more than one skill.
You will then complete your resume by listing your educational qualifications.
31. Protect Yourself from Job Scams
You have completed your resume and you are proud of your accomplishment, but just before you start applying for the job that you desire, we would like to point out a few landmines that you should be aware of to protect yourself.
The biggest landmine to be aware of is scam jobs.
A word of caution – there has been an influx of scam jobs and fraudulent jobs that try to con, swindle and take advantage of job seekers. Do your best to ensure that you do not send your cover letter and resume to fraudsters.
Here is a video with information on combating online job scams – Making the Job Search Easier: How to Recognize and Avoid Job Scams This webinar/video from LinkUp discusses what a job scam is, who the targets are of job scams, what kinds of scams exist, what the signs of scams are, and how to protect yourself from being scammed.
Additional resources on how to protect yourself from job scams:
32. Should a Resume have a Testimonial/Reviews Section?
In today's market, before making a purchase, many people search the Internet and read testimonials and reviews about the products and services that they want to buy on websites like Amazon and Yelp.
These crowd-sourced reviews offer first-hand insights from people who have used the product or service. They tell of their experiences with the products or services be it good or bad experiences.
The testimonials or reviews help to make the purchasing or buying decision easier and more informed.
Similarly, how about if people were to incorporate one or two independent reviews on their resumes? These would be quotes and testimonials from people who have worked first-hand with you and are willing to share their feedback with others regarding what value you bring to the table.
It would help to reduce the level of unknowns or anxiety. Reviews would focus on your traits as a person, your specific accomplishments and the secret sauce about you that distinguishes you from others.
Reviews would not replace references; reviews would simply be one more tool to help get you closer to an interview invitation since references typically kick-in after the interview.
Imagine if perhaps future resumes would have a new section entitled Testimonials or Reviews. This section could be at the very end of the resume.
There could be some challenges to work out such as getting permission from the recommender to include their reviews or reviews being manipulated for selfish gain. The jury is still out on this idea – simply food for thought.
33. The Giant Filters – Applicant Tracking Systems (ATS)
What are Applicant Tracking Systems? How do they work? How can you get along better with them?
Most resumes will be reviewed and scanned by machines before they are read by actual people. Many organizations use Applicant Tracking Systems (ATS) to help manage the recruitment process.
An Applicant Tracking System is a software application that helps organizations to electronically handle their recruitment processes and functions.
The system helps to save time and effort by handling open job postings, job applications received, interviewing processes and all other recruitment steps all the way until a new staff is hired.
One of the key functions of an Applicant Tracking System is to examine and sort out resumes based on predetermined criteria such as keywords, skills, abilities, work experience and qualifications.
The ATS helps to screen resumes faster than if they had otherwise been screened manually by a person.
However, the downside is that many resumes get rejected by the Applicant Tracking System – so how can you do your best to ensure that your resume passes the ATS?
The rules to comply with are as follows: use standard section headings such as work experience and education; avoid using images, tables and columns on your resume; include the keywords in the job posting but do not over stuff keywords; provide context to the keywords that you use, instead of simply saying problem-solver, explain or highlight a scenario where you solved a problem.
Others include: submit your resume as a Word document; if you submit your resume as a PDF, convert it directly from Word to PDF, do not submit a scanned PDF; keep the number of fonts to a minimum; spell check your resume because misspelled words won't be recognized by the system; spell out acronyms in full and put the acronym in parenthesis and avoid headers and footers on your resume.
It is very important to know and understand how Applicant Tracking Systems work because it could make the difference between getting invited for an interview or hearing no response back from the organization.
Below are some resources on learning more about Applicant Tracking Systems:
34. The Dessert – Going the Extra Mile after You Find a Job
Once you get a job that you like that should not be the end of your journey.
You could be doing a few things behind the scenes to keep your skills fresh, relevant and up-to-date while at the same time helping others to get the jobs that they desire and checking out what future career prospects are available.
You can go the extra mile by doing the following activities:
Teach and help others. Many people struggle with writing resumes. From time to time please reach out to at least one person and help them in writing, editing or reviewing their resume and also in reviewing their professional social media profile. Help them as best as you can.
Scour the Internet to look for any incorrect and inconsistent public profiles about you and clean them up as best as you can also clean up your public social media pages.
Set up a Google alert on your name to get notifications each time there are any new search results that include your name.
Stay up to date with the ever evolving, ever changing world of technology both online and offline.
Apply for jobs that you are qualified for. You could also apply for jobs that are slightly above your skill sets but which you believe you could work your way to attaining what skills are needed to do the job effectively.
On the other hand, when times are tough or when you are restarting your career after a long absence, you can target jobs that are slightly below your skill-set to diversify your options.
In every job that you do keep track of your accomplishments on an ongoing basis.
Make an effort to stay up to date with changing trends in your industry and the general economic landscape. Constantly work on updating and refreshing your skills through reading, practicing and taking professional development training. As you learn and master new skills update your resume accordingly.
35. Final Resume Tips (25 Quick Tips)
In conclusion, here are 25 more tips to keep in mind when preparing a resume:
Don't use casual language and slang such as used when writing text messages, or using emojis and emoticons.
Any website links on your resume should be hyperlinked and clickable.
Remove hyperlinks to your email address.
Don't write the word resume at the top of your resume.
All job titles should be formatted in bold.
After you update your resume, update your professional social media profiles as well for consistency.
Double check whether you have any duplicate profiles on LinkedIn or other professional social media websites.
Consider developing your own website where you can manage and showcase your professional portfolio. This is a good way of standing out from the competition.
Know your value – How much are your services worth? What is the market value for someone with your skills, knowledge and experience?
Have a good balance of white space all around your resume – Resume to be easy on the eyes with overall organized, clean layout, design and presentation. Attention to details is critical.
When listing accomplishments, always show the stronger powerful bullet points first.
Give another person your resume to read and review it.
Thoroughly read and understand the job posting.
It is ok to contact a professional resume writer [Certified Professional Resume Writer (CPRW)] to help you to develop your resume, for example you can check out Elevated Resumes for visually appealing, personalized and custom designed resumes.
As obvious as this may sound, know what is on your resume especially if written by a third party.
Keep enough backups of your latest resume; you wouldn't want to have to start over rewriting your resume.
Explain how you used your soft skills – list the soft skill then explain an example of how you used the skill. Soft skills include – organized, problem solving, planning, detail-oriented, and communication skills. Weave your soft skills into your accomplishments.
Right-align all dates on your resume such as employment dates and university and college dates.
Print extra copies of your resumes to take with you during interviews and print on high quality paper.
It is a good practice to read your resume again before interviews and be able and ready to confidently talk about and respond to any questions about the contents of your resume.
Set-up a professional voicemail greeting on your phone.
If a potential employer leaves a voicemail, you should call back as soon as you possibly can.
If you are writing a niche resume such as a Federal resume, this article from the Department of Homeland Security has good Tips for Writing a Federal Resume.
Have clearly labelled section headings and good spacing between different resume sections.
Take some extra time to customize your resume for the job you are applying for. This extra investment can increase your chances of getting invited to interviews. It is tempting and easy to send out the same generic resume and hope for different results but don't do that.
Additional Resources on How to Write a Resume
Summary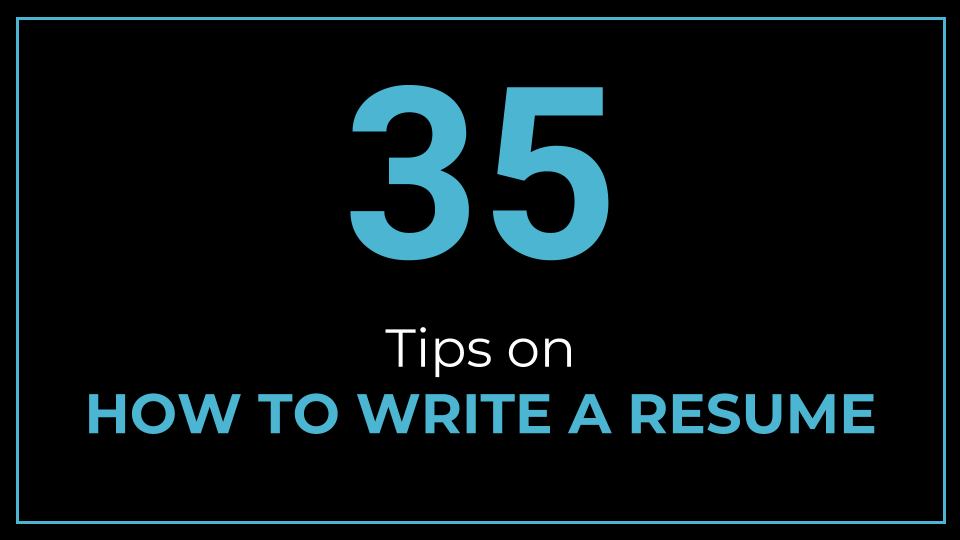 Article Name
How to Write a Resume (35 Good Tips)
Description
Get great tips on how to write a resume. Topics include analyzing a job opening, researching a company, contents of a resume, how to identify your accomplishments, power words and keywords, checklists, common resume mistakes, length, references, resume formats and Applicant Tracking Systems.
Author
Publisher Name
Publisher Logo