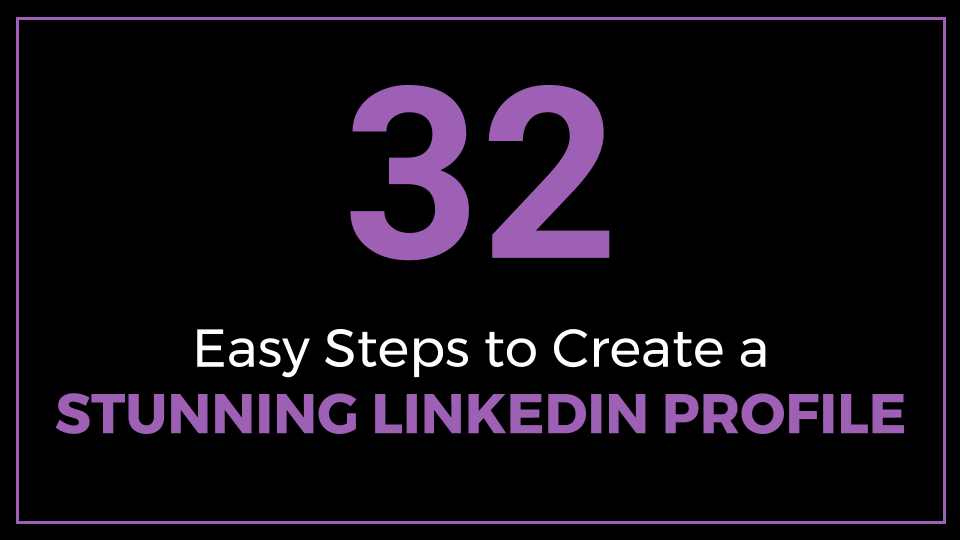 32 Easy Steps To Create A Stunning LinkedIn Profile
This article will walk you through 32 simple steps to create a stunning LinkedIn profile.
You can quickly skim all the 32 steps on the table of contents below and then click on any step to read further details. Please enjoy reading. Thank you.
TABLE OF CONTENTS
1. Sign Up/Create a LinkedIn Account
The first step is to open a professional social media profile on LinkedIn. Open an account by typing your name, email address and a password.
After joining select your country, zip code, job title and select the industry where you work in.
2. Getting Started
It is a good idea to have on hand an electronic copy of your latest resume. Complete your LinkedIn profile using your resume as a guide.
Add your contact details such as your email, telephone, Twitter account and up to three websites. You can include your personal website, blog or your employer's website.
3. Personal Headline
The default headline will be your current job title and the company where you work.
If you choose to, you can customize and personalize your headline so that it differentiates you and briefly provide more specific insight about who you are, your key skills and uniqueness.
Make a strong first impression. Mention what makes you stand out and use searchable keywords.
4. Profile Photo
This is where you put your best foot forward. Upload a smiling professional head shot photo, a smile radiates warmth.
Don't leave this section blank. Avoid photos with a busy background.
5. Background Image
Select a good background photo that conveys your personality and personal style.
The background image appears at the top of your profile. Think of it as wallpaper for your profile.
6. Professional Summary
Invest quality time to craft the best professional summary that markets your personal brand.
At a minimum, your summary should say what you have done/your strongest accomplishments and accolades and what you can do/what you are good at.
Also show what you want to do, your credentials, years of experience, words to describe you, your key skills, what you are passionate about or something unique about yourself.
Use relevant keywords in this section.
If you would like to showcase your work portfolio on your professional summary, you have the option to add a document, photo, website link, video or slide presentation.
7. Work Experience
List the job positions that you have held including your current and previous positions.
Include the job title, employer/company, city and state, start and end dates then in bullet points, show your major accomplishments at each position.
The number of jobs to include is at your discretion depending on your career goals.
You can choose to include all the jobs that you have ever held or you could choose to include only jobs that align with your current career objectives.
It is a good idea to write a brief 1-3 sentence overview before listing your accomplishments.
This outline or description will briefly summarize what your specific role was thus providing relevant background and context.
Use power words to describe your achievements such as led, managed, developed, implemented, spearheaded, sold, facilitated, invented, redesigned, negotiated, innovated etc. Quantify your accomplishments.
If you would like to showcase your work portfolio under any job that you have listed, you can add a document, photo, website link, video or slide presentation.
You can add a few high quality work samples or examples that you are proud of. Be careful not to violate any non-disclosure agreements with current or previous employers and/or clients.
8. Education
List your educational qualifications showing the schools and colleges attended, name of the degree or academic qualification, and the starting and ending year.
Other options include adding a grade, including skills gained in extra-curricular activities, and a description of what your education qualification entails.
Under this section, you can also add a document, photo, website link, video or slide presentation.
Additionally, adding your education can assist you to connect with alumni from the schools you attended.
9. Honors and Awards
List any relevant honors, certifications and awards.
10. Customized Public Profile URL
Choose a customized Uniform Resource Locator (URL) or web address for your public profile with your name, e.g. https://www.linkedin.com/in/yourname.
To get more details, search using the term "Customizing Your LinkedIn Public Profile URL"
Add your customized LinkedIn URL to your resume.
11. Edit Your Profile
Proofread your online profile and check for spelling and grammatical errors.
12. Networking/Add Connections
Reach out to people you have worked with or gone to school with and add them to your professional network.
Consider personalizing the connection requests or emails that you send out.
13. Seek Recommendations
Request for recommendations from former workmates, supervisors, business partners etc.
14. Recommend Others
Recommend others sincerely – former colleagues, bosses, business partners, classmates etc.
15. Include Your Interests
Add your interests or hobbies, they can make you connect with others and be more relatable.
16. Follow Companies
Search for and follow the company you work for and also follow other companies that you like or admire.
17. Manage Privacy Settings
Manage your privacy settings and notifications according to your personal preferences.
Also customize how your public profile should appear – this lets you control the amount of information that is displayed publicly when someone searches for you on a search engine or clicks on your customized URL.
Whenever you are updating or making substantial edits to your profile, it is a good idea to temporarily turn off your activity broadcasts so that your network is not notified of your profile changes or updates.
18. Add Languages
Add your language skills – bilingual and multilingual language skills are an asset.
19. Follow Influencers
Search for a few inspirational influencers who speak to your heart and follow them.
20. Introductions
Ask for introductions/referrals if you need them and return the favor to others who need your assistance.
A good aspect of LinkedIn is that it shows how you are connected to a person through mutual connections such as first degree connection, second degree or third degree.
21. Voluntary Experience
Include your community experience, volunteering gigs and causes that you care about as well.
22. Add Key Skills
Include at least three or more of your topmost or specialized skills.
23. Endorse Other People's Skills
Endorse the outstanding skills of your connections or network.
A good practice is to endorse people for only those skills you know they possess because this adds to the value of the endorsement.
24. Join Groups
Join a few good groups in your niche area or your areas of interest.
25. Find Jobs
You can use LinkedIn to find jobs. Simply go to the menu and search for jobs.
Narrow your search by finding a job using a job title, keyword or company name and the location – such as city, state or country. You can further sort the search results by relevance or the date the jobs were posted.
You can also save all the jobs that are of interest to you and view them in one place.
Additionally you can set up preferences for the kind of job that would interest you then LinkedIn can recommend potential jobs that you may be interested in and you can view them in one place.
26. Share, Like and Comment
Share, like and/or comment on articles, postings and discussions that make an impression on you.
Similarly share your updates on your home page.
27. Share The Love
Congratulate or give kudos to your connections on reaching milestones such as work anniversaries, new job and promotions.
28. Read Posts
Read articles published by others that can help you grow both personally and professionally.
29. Publish Posts/Articles
You can also publish your own articles on topics that you care about that can add value to others.
30. Discover Channels
Find and follow any channel that features articles and topics that are of interest to you such as technology, entrepreneurship, leadership and management etc.
31. LinkedIn SlideShare
Learn many exciting topics and slide presentations via SlideShare.
You can also share/upload your presentations.
32. Routine Maintenance
Update your professional social media profile on a regular basis. Synchronize your LinkedIn profile with your resume to ensure consistency of your professional experience.
Finally, also save a PDF copy of your final profile.
Additional Resources on Steps to Create a Stunning LinkedIn Profile
Summary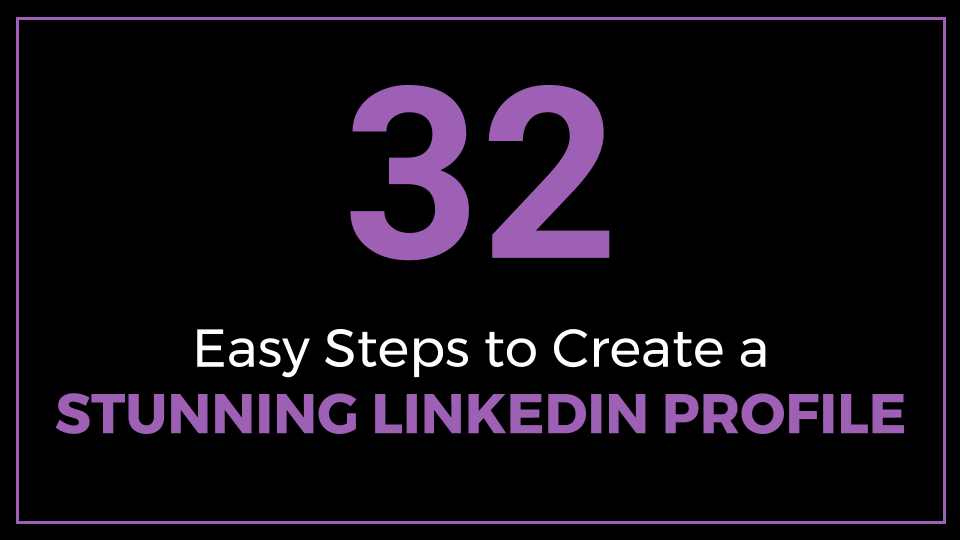 Article Name
32 Easy Steps To Create A Stunning LinkedIn Profile
Description
This article walks you through 32 simple steps to create a stunning LinkedIn profile. The steps include writing a personal headline, choosing a profile photo, completing your professional summary, work experience and education, adding connections, customizing public profile URL and endorsing and recommending others.
Author
Publisher Name
Publisher Logo

Blog Categories
MORE ARTICLES
Share: