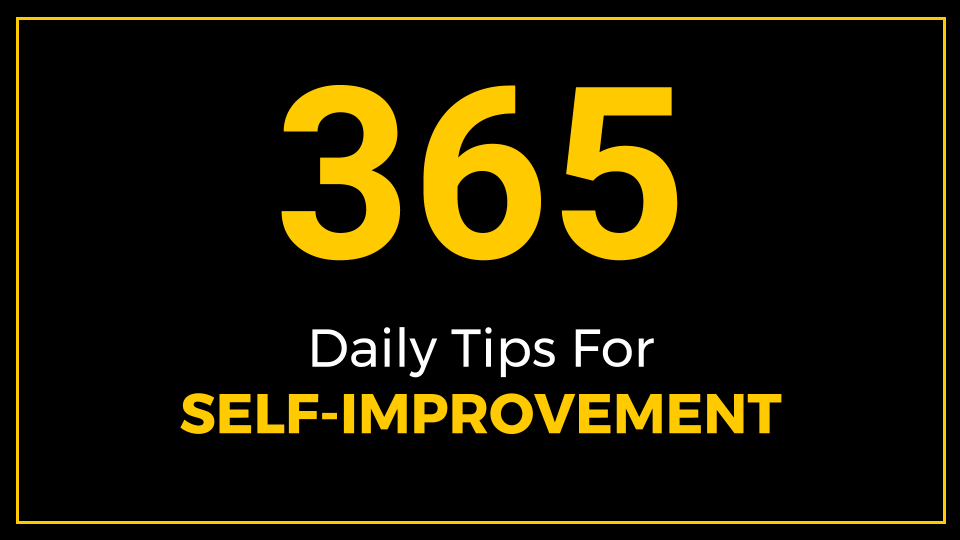 365 Daily Tips for Self-Improvement
This article highlights tips for self-improvement for everyday of the year plus a bonus tip for leap years.
One of the best investments that you can make in your life is to invest in improving yourself. Self-improvement is any set of actions or steps that you undertake with an aim of making yourself better than you were before, previously or in the past.
Self-improvement is not a one-off or overnight activity or event, instead it is a lifelong process where the goal is to keep improving yourself each day and be a better version of yourself today than you were yesterday, or one year ago, or five years ago etc.
When you actively work on your personal development, you not only reap the rewards of self-growth, improve your life, skills, knowledge and interactions but also improve your contribution to the people and environment that surround you.
This article outlines various aspects of developing yourself from personal life to career, to interpersonal relationships, to entrepreneurial thinking.
Read the 365 tips as often as you can and add your own insights and experiences to get maximum value from the lessons. Share these self-help tips with others – your family, friends, neighbors, colleagues and networks.
Disclaimer: These tips are for general informational purposes only and do not constitute professional advice. Consult a professional regarding a specific situation.
You can quickly skim all the categories on the table of contents below and then click on any category to read further details. Please enjoy reading. Thank you.
TABLE OF CONTENTS
Part 1 – Personal Development (68 tips)
Part 2 – Managing Emotions (26 tips)
Part 3 – Managing Your Thoughts (28 tips)
Part 4 – Professional Development (63 tips)
Part 5 – Good Financial Management Habits (25 tips)
Part 6 – Supporting Others (39 tips)
Part 7 – Incremental Growth (41 tips)
Part 8 – Life Lessons and Experience (41 tips)
Part 9 – Thinking Like an Entrepreneur (34 tips)
Part 10 – Bonus Tip for a Leap Year (1 tip)
Part 1 – Personal Development
1. Write down your personal goals.
2. Visualize your goals.
3. Picture the finish line.
4. Break your goals into small parts.
5. Take the first step towards achieving your goals.
6. Take one small step each day.
7. Do small things in a big way.
8. Cultivate initiative.
9. Believe that you can make it.
10. Don't give up/keep pushing forward.
11. Ask for feedback.
12. Exercise your creativity muscles.
13. Be open-minded.
14. Keep your word.
15. Boost your productivity.
16. Don't be afraid of risks/take calculated risks.
17. Learn the qualities of high achievers.
18. Have a winning mindset.
19. Show genuine interest in others.
20. Learn how to deal with criticism/handle criticism well.
21. Be reliable/dependable.
22. Don't be afraid to say "I don't know"/be open to learning.
23. Be flexible.
24. Show enthusiasm.
25. Be consistent.
26. Motivate yourself every day.
27. Hang around others who uplift you.
28. Overcome procrastination.
29. Know your strengths.
30. Know your weaknesses.
31. Exceed expectations.
32. Cultivate patience.
33. Practice humility.
34. Be a better listener.
35. Be yourself.
36. Identify your passion.
37. Be a change agent – improve things around you.
38. Be decisive.
39. Believe in yourself.
40. Think outside the box.
41. Learn from people who are different from you.
42. Be proactive.
43. Don't blame others.
44. Identify when you are most productive.
45. Be responsive.
46. Reassess your habits.
47. Know the power of body language.
48. Make eye contact.
49. Make a good first impression.
50. Develop a pleasant personality.
51. Know your fears, understand why they make you afraid and figure out how to overcome them (fear of change, failure, unknown, public speaking etc.)
52. Do mental workouts.
53. Pay full attention.
54. Speak up.
55. Ask questions.
56. Stay focused.
57. Practice delayed gratification.
58. Avoid complacency.
59. Resolve conflicts amicably.
60. Learn how to negotiate.
61. Don't take advantage of others.
62. Sleep on it/take time to think through critical decisions.
63. Invest in long-term planning.
64. Unplug often and rest/recharge your battery.
65. Watch what you eat.
66. Exercise regularly.
67. Eat breakfast.
68. Celebrate your successes/reward yourself.
Part 2 – Managing Emotions
69. Analyze your emotions and understand the way you are feeling.
70. Choose how you respond to situations.
71. Know what makes you angry and control your anger.
72. Focus on something that calms you down.
73. Take a break and revisit a stressful situation later.
74. Identify how you can make situations better.
75. Listen to both sides of an argument.
76. Build your self-confidence.
77. Tame your ego.
78. Take deep breaths.
79. Smile often.
80. Be courageous.
81. Forgive yourself and forgive others.
82. Laugh at yourself.
83. Handle uncertainty well.
84. Get past rejection.
85. Avoid toxic people/seek the company of those who bring out and nourish your best qualities.
86. Be assertive.
87. Set personal boundaries.
88. Take responsibility for your life.
89. Talk to a confidant/someone you trust.
90. If needed, talk to a professional.
91. Surround yourself with supportive people.
92. Channel your energy to a challenging task.
93. Be friendly and easy going.
94. Make time to relax, have fun and enjoy life.
Part 3 – Managing Your Thoughts
95. Think positive and empowering thoughts about yourself.
96. Remove toxic thoughts from your mind.
97. Question your own thinking.
98. Don't assume the worst.
99. Let go of worry.
100. Be aware of how you are feeling and why.
101. Maintain a positive attitude.
102. Don't focus on negative thoughts.
103. Overcome self-doubt.
104. Don't live in the past/let go of the past and build a new future.
105. Appreciate yourself.
106. Surround yourself with happy people.
107. Overcome regrets.
108. Watch your words/speak empowering words.
109. Avoid overanalyzing.
110. Accept compliments graciously.
111. Be grateful.
112. Ignore naysayers.
113. Know and overcome your biases.
114. Form your own opinions.
115. Be optimistic.
116. Meet new people.
117. Be a role model.
118. Don't compare yourself with others.
119. Compete with your former self/surpass your previous goals and records.
120. Aim to make a difference in life.
121. Embrace the power of momentum in achieving personal goals.
122. Step up to challenges/challenge yourself.
Part 4 – Professional Development
123. Plan your career.
124. Be committed to excellence.
125. Find a job that you love.
126. Improve your communication skills.
127. Attend training courses, workshops, seminars and webinars.
128. Apply knowledge learnt to your daily tasks.
129. Analyze your skills gaps.
130. Be a good team player.
131. Plan your day with a to-do list.
132. Practice the art of following up.
133. Work hard and work smart.
134. Learn from others.
135. Keep an idea journal/write your ideas.
136. Work on a strong handshake.
137. Learn by doing.
138. Paraphrase to demonstrate understanding.
139. Don't interrupt others.
140. Deliver results.
141. Propose options, solutions and ideas.
142. Have a unique selling proposition.
143. Be organized.
144. Proofread your work.
145. Take good notes and minutes.
146. Build rapport with others.
147. Make effort to know your coworkers.
148. Avoid office politics.
149. Study both successful and failed leaders.
150. Take time off.
151. Reflect on the day.
152. Schedule work blocks.
153. Build a track record of high performance.
154. Don't overcommit yourself.
155. Give your very best service at work.
156. Toot your own horn smartly.
157. Eat your lunch away from your desk.
158. Take small breaks.
159. Contribute during meetings.
160. Help a coworker.
161. Sometimes telephone is better than email.
162. Manage your time well.
163. Improve your writing skills/write a lot.
164. Embrace accountability.
165. Strengthen your research skills.
166. Develop processes and systems.
167. Delegate.
168. Pay attention to details.
169. Share information.
170. Support your supervisor.
171. Do quality control.
172. Develop leadership abilities.
173. Be ethical.
174. Meet your obligations.
175. Dress well and professionally.
176. Brainstorm with others.
177. Resolve disagreements in private.
178. Manage email well.
179. Organize your desk and desktop.
180. Learn all aspects of your organization.
181. Prioritize your work.
182. Say good morning and goodbye to colleagues.
183. Do one task at a time/reduce multitasking.
184. Get buy-in.
185. Have a life outside of work.
Part 5 – Good Financial Management Habits
186. Track your monthly expenses/where does your money go?
187. Prepare a monthly budget.
188. Develop a savings plan.
189. Pay yourself first.
190. Appreciate the power of compounding.
191. Manage credit cards well.
192. Work on improving your credit score.
193. Review your credit report and credit score on a regular basis.
194. Develop a plan for getting out of debt.
195. Cut down on costs.
196. Pay bills on time.
197. Make a shopping list.
198. Avoid impulse spending.
199. Keep good financial records.
200. Invest and earn.
201. Live below your means.
202. Build an emergency fund.
203. Do comparison shopping.
204. Haggle/bargain when you can.
205. Read the fine print before signing contracts.
206. Buy nonperishable items in bulk.
207. Routine, regular or preventative maintenance can help save money.
208. Read about good financial management habits.
209. Learn about retirement planning.
210. Start saving early towards retirement.
Part 6 – Supporting Others
211. Be a good friend.
212. Share generously.
213. Love others.
214. Be loyal.
215. Volunteer.
216. Take genuine interest in others/be genuinely interested in other people.
217. Be kind always.
218. Be supportive.
219. Practice common courtesy.
220. Value other people's ideas.
221. Give back.
222. Share the credit.
223. Praise others genuinely.
224. Apologize.
225. Don't hold grudges.
226. Help others.
227. Walk away from gossip.
228. Stay in touch.
229. Find common ground with others.
230. Encourage others.
231. Be honest/have integrity.
232. Give people a second chance.
233. Make time for others.
234. Remember and use people's names.
235. Donate.
236. Teach others.
237. Have empathy.
238. Be a confidant/maintain confidentiality.
239. Celebrate other people's success.
240. Spend time with your loved ones.
241. Practice the golden rule.
242. Treat others with respect.
243. Be there for someone during difficult times.
244. Look for the good in others.
245. Have sympathy.
246. Learn how to compromise/make concessions.
247. Be diplomatic.
248. Build and maintain relationships.
249. Speak well of others.
Part 7 – Incremental Growth
250. Develop a personal mission statement.
251. Think of tomorrow today.
252. Always keep improving.
253. Dream big.
254. Read about successful people.
255. Get an accountability buddy.
256. Find your purpose in life.
257. Grow through adversity.
258. Be bold.
259. Where do you get your aha moments?
260. Avoid following the crowd.
261. Be persistent.
262. Be curious.
263. Have hope.
264. Attempt more.
265. Read often.
266. Hang out with successful people.
267. Have an expansive imagination.
268. Find a mentor.
269. Make your own definition of success.
270. Have high standards.
271. Be known for something specific.
272. Develop action plans.
273. Pursue your dreams.
274. Avoid making excuses.
275. Track/measure and evaluate your progress regularly
276. Scan the environment.
277. Be the "go-to" person.
278. Know what inspires and motivates you.
279. Have heroes and heroines.
280. Adjust your plans accordingly.
281. Study the competition.
282. Think differently.
283. Take action constantly.
284. Focus on solutions.
285. Practice connecting the dots/identifying patterns.
286. Take challenging assignments.
287. Quality is king and queen.
288. Be hungry, be ambitious.
289. Learn a new hobby.
290. Go the extra mile.
Part 8 – Life Lessons and Experience
291. You cannot please everybody.
292. Listen to your gut/instincts.
293. Prepare for the unexpected.
294. Enjoy the present moment.
295. Change your routine.
296. Persevere to succeed.
297. Get enough sleep.
298. Don't worry what others think about you.
299. Do your very best and then let go – perfection is a mirage.
300. Admit your mistakes.
301. Be kind to yourself.
302. Experience counts.
303. Make things simpler.
304. No one has all the answers.
305. You don't have to be right all the time.
306. You are a survivor/you were born to stand out.
307. Always plant seeds in your life.
308. Seeds take time to grow.
309. Always water your seeds.
310. You can't control everything.
311. Adversity is part of life.
312. Choose your battles wisely.
313. Reciprocate.
314. Do exercises to improve your memory.
315. Take care of your health.
316. Laugh often, laugh deeply.
317. Cut down on time spent watching television.
318. Manage power well.
319. Slow down and zig zag every so often.
320. Love what you do.
321. Learn from mistakes.
322. Know who has your back.
323. Have faith.
324. Enjoy nature.
325. What got you here may not get you there.
326. Solve problems.
327. Keep your promises.
328. Sharpen your observation skills.
329. Lead by example.
330. Ask for help.
331. Start now – there is no perfect time to start working on your goals.
Part 9 – Thinking Like an Entrepreneur
332. Think like an entrepreneur in your life and career (and even side-hustle).
333. Desire to improve things.
334. Try new things.
335. Be innovative.
336. Learn the characteristics of entrepreneurs.
337. Learn different job skills.
338. Learn something new every day.
339. Learn from failure.
340. Collaborate/team-up/partner with others.
341. Embrace competition as a motivator.
342. Study both successful and failed companies.
343. Offer superior customer service.
344. Listen to customer complaints.
345. Look for new ideas/opportunities.
346. Don't be limited or held back by your current circumstances.
347. Understand your industry.
348. Know your company's competitors.
349. Improve your selling and presentation skills.
350. Mentor others.
351. Expand your network.
352. Share your knowledge and expertise.
353. Be resourceful.
354. Be persistent.
355. Bounce back from disappointments.
356. Be open to change.
357. Plan ahead.
358. Do regular self-assessments.
359. Open doors of opportunity for others.
360. Practice big picture thinking.
361. Reevaluate what is not working.
362. Pace yourself, you can't do it all at once.
363. Get involved in your community.
364. Reuse and recycle.
365. Build your authority or expertise in a specific area.
Part 10 – Bonus Tip for a Leap Year
366. Ask for testimonials or recommendations.
Additional Resources with Tips for Self-Improvement